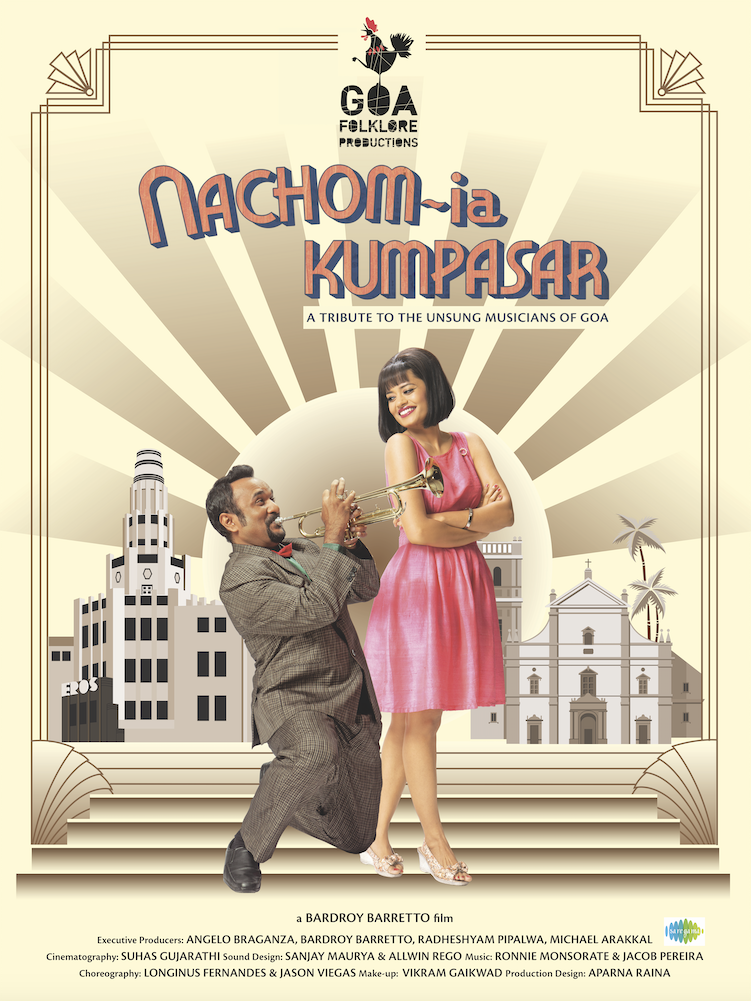 Nachom-ia Kumpasar
(
Let's dance to the rhythm)
Dir: Bardroy Barretto
Duration: 156 mins
29th January 2023

10:00–12:35 pm
This Konkani musical drama is based on the lives of two jazz musicians, Chris Perry and Lorna, and takes its title from a song by the two artists. The story is told through over 20 popular Konkani songs from the 1960s and 1970s that have been re-recorded for this film. Set in the 1960s, the film is a tribute to the 'unsung' Konkani musicians of that era. It has won 24 international, three national, and 10 state awards making it the most-awarded Konkani film.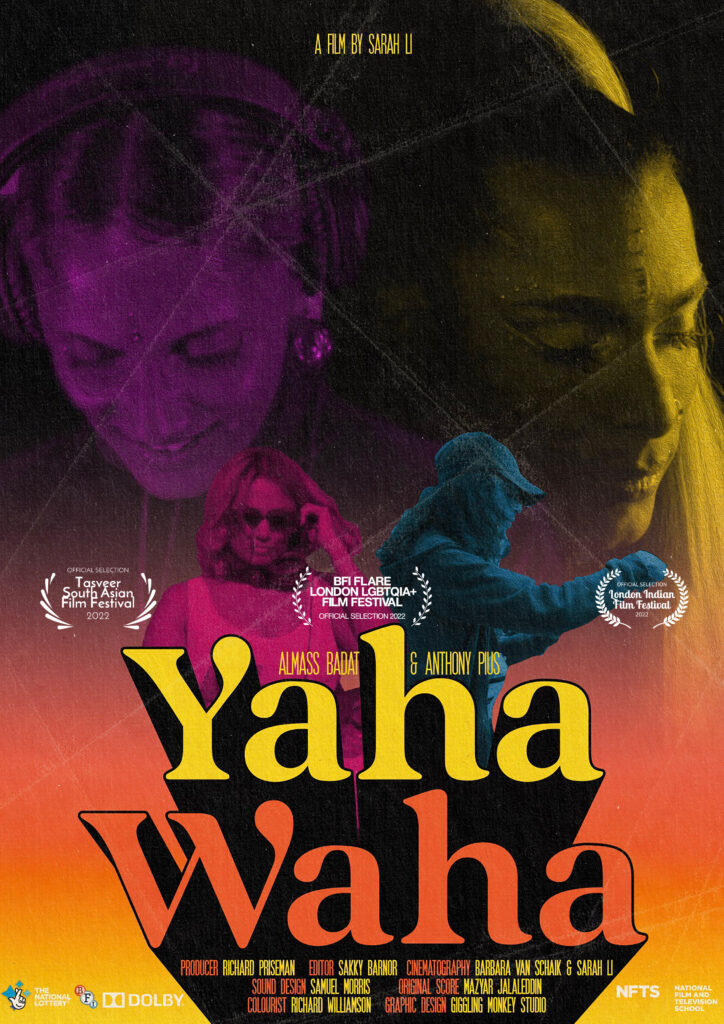 Yaha Waha
Dir: Sarah Li
Duration: 30 mins
29th January 2023

2:00–2:30 pm
What is it to be young, second or third-generation British Asian in today's world? Anthony Pius is a trained Bharatanatyam dancer and drag queen from London who is producing and starring in shows with a full cast of Asian Queens. Almass Badat is a DJ with a residency on BBC Asian Network, her dream is to show people a world through her lens; that of an independent, Muslim, queer woman. Fresh out of lockdown, we follow them as they transform their own deeply personal learnings of British Asian identity into work that asks to be understood and demands to be celebrated.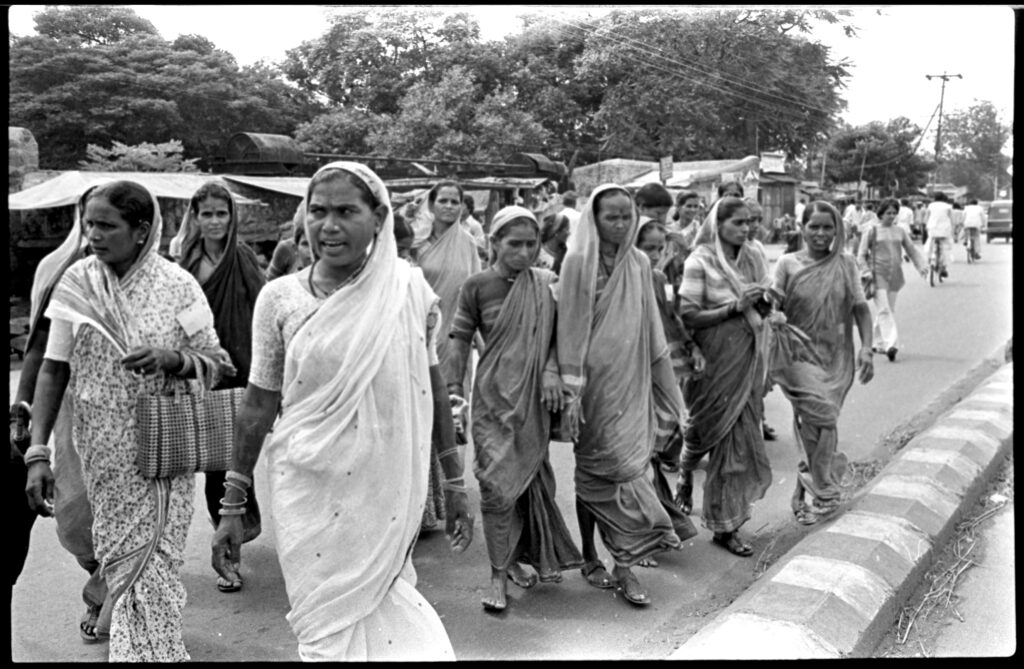 Yugantar films, followed by a discussion with Deepa Dhanraj
 Read more about Deepa Dhanraj 
Molkarin (Maidservant), (1981)

Duration: 25 mins
Language: Marathi
Format:  16mm, Black & White.
28th January 2023

11:30 am–12:30 pm
Molkarin exposes the oppressive working conditions of hundreds of domestic workers in Pune. Through re-enactments of significant moments of the original process of unionizing, the film powerfully narrates the coming together of women workers to form their own union to fight for their rights. Domestic workers, mainly Dalit and rural migrants to the city, reflect on low payment, lack of security, and the normalized humiliating behaviour of employers, also exposing the participation of middle-class women in working-class women's oppression.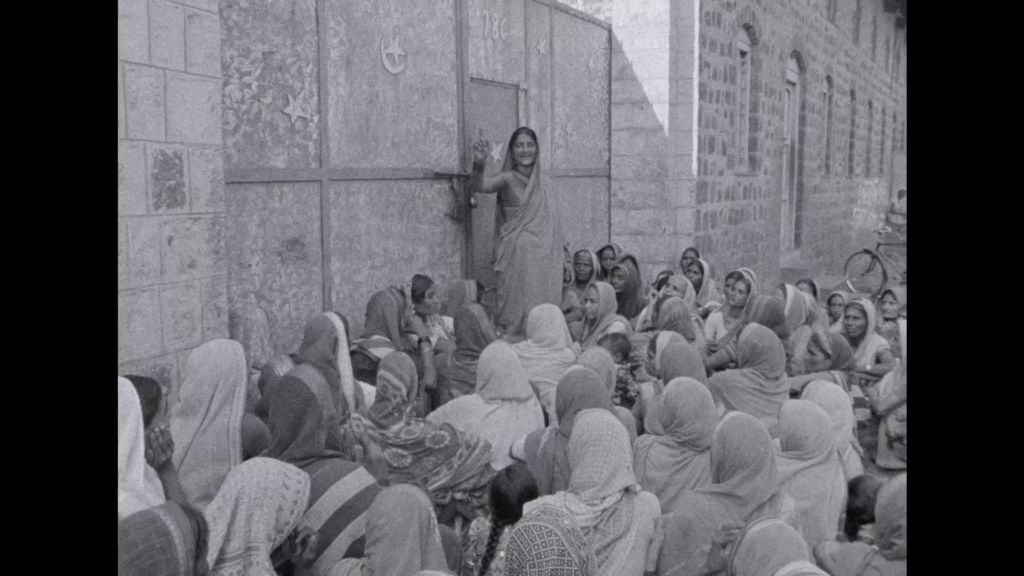 Tambaku Chaakila Oob Aali
(Tobacco ember), (1982)
Duration: 25 mins. 
Language: Marathi
Format: 16 mm, Black & White
28th January 2023

2:00–3:00 pm
Tambaku Chaakila Oob Aali traces the history and strike actions of the all-women trade union of over 3000 tobacco workers in Nipani. Made in collaboration with female tobacco factory workers, the film documents, re-enacts and takes forward one of the largest movements of unorganised labour of its time and context which sparked unionizing processes across Karnataka and Maharashtra throughout the 1980s. A powerful example of feminist third wave cinema, a factory film, also called a 'strike manual' by current union activists.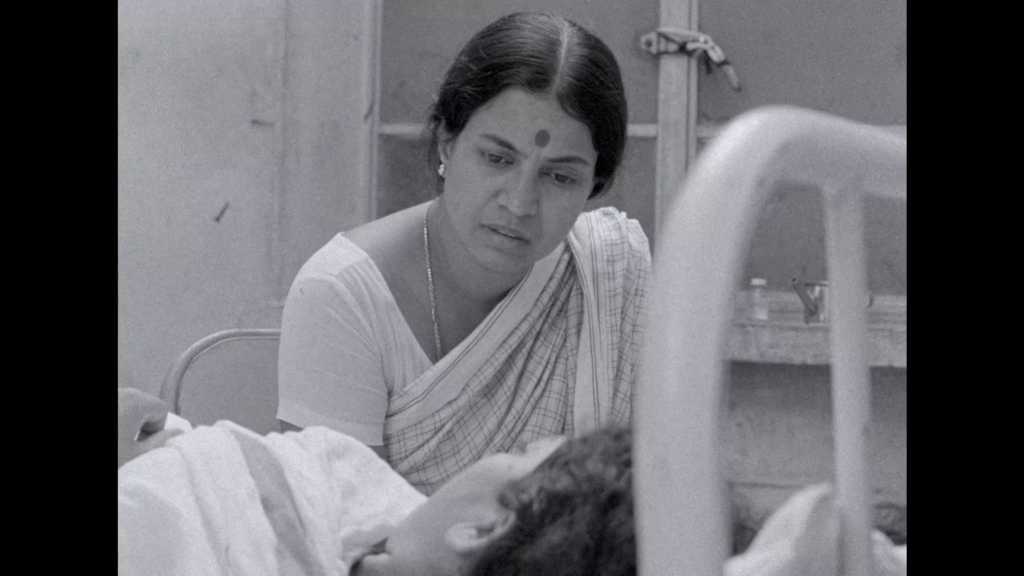 Idi Katha Maatramena
(Is this just a story?)
(1983)
Duration: 25 mins
Language: Telugu 
Format: 16mm, Black & White
28th January 2023

11:30 am–12:30
Idi Katha Maatramena is an improvised fiction film, affectionately called Yugantar's 'hit' film. Yugantar collaborated with the research and feminist collective Stree Shakhti Sanghatana, provoked by an urgency to broaden discourses and political practice on domestic violence that had focused on dowry death. This fictional reconstruction of layers of domestic violence, explores the complex inner struggle of the lead female character, through script, camera, and acting. Pioneering at its time, the film was produced through self-reflexive collaborative processes of both collectives.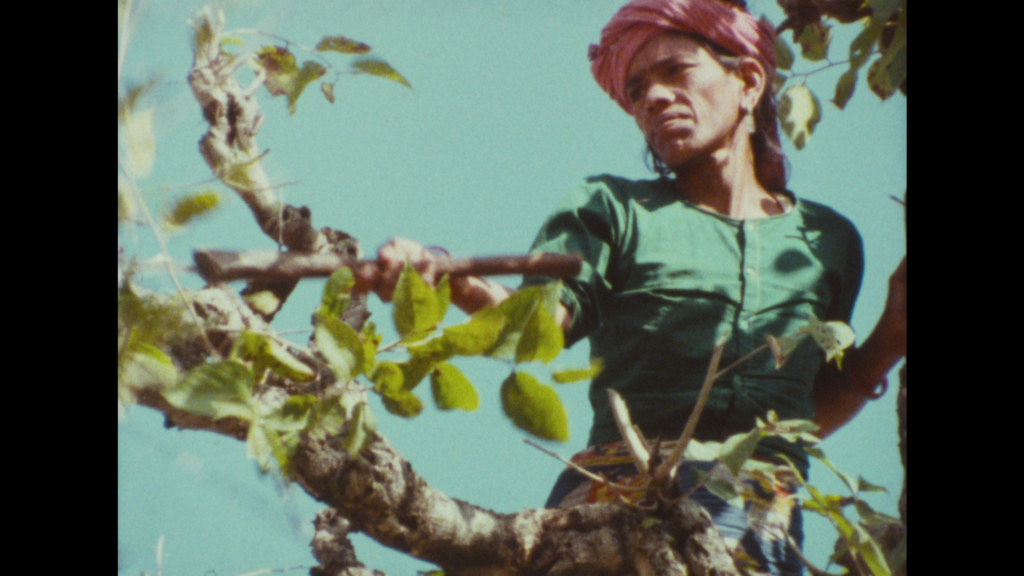 Sudesha 
(1983)
Duration: 30 mins
Language: Hindi and Garhwali
Format: 16mm, colour 
28th January 2023

2:00–3:00 pm
A portrait of Sudesha Devi, a village activist in the Chipko Forest Conservation Movement where people's livelihoods depend on the forest, threatened to be destroyed by powerful timber traders. While men work away from home and alcoholism is a problem, women carry out most of the labour and become active agents of the Chipko andolan—complexities that link the film to past and current eco-feminist concerns. Sudesha navigates family life, the strenuous terrain of the mountains, and living her life through protest which also brought her to prison.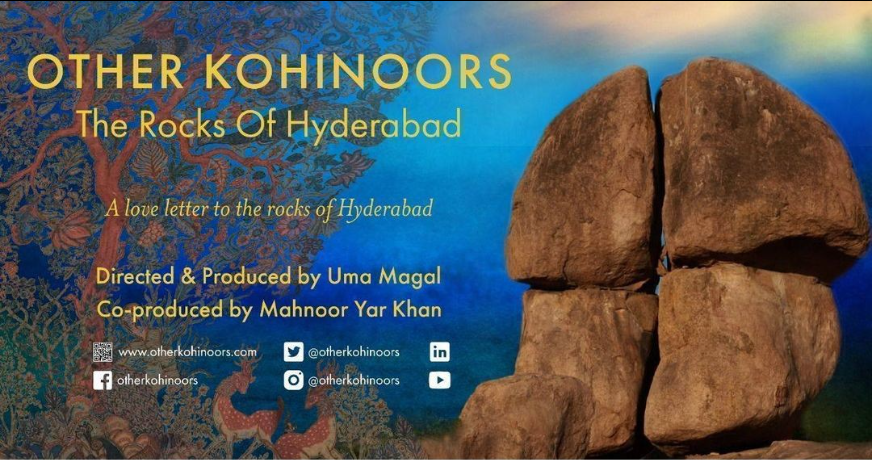 Other Kohinoors: The Rocks of Hyderabad
Dir & Producer: Uma Magal
Co-Producer: Mahnoor Yar Khan
Duration: 45 min
Language: Hyderabadi languages

28th January 2023

10:00–10:45 am
Other Kohinoors is a love letter to Hyderabad and its unique terrain and culture. Hyderabad has a distinct history, language, culture, cuisine, and physical features. The film anchors itself in this regional tapestry showcasing how all of these are tied together with the rocks. At the heart of this profound interactive relationship between culture and nature is the respect for and dependence on the landscape. The relationship is manifest in the city's sensibility: in its art, crafts, textiles, poetry, prose, architecture, literature, everyday language, names, popular art, jokes, and personal as well as collective memory.
Hyderabad's relationship with the rocks has changed remarkably in the last couple of decades. We have witnessed the catastrophic destruction of these unique and irreplaceable ancient rock formations. It is accompanied by the destruction of ecological sustenance that the terrain provided to the city, as well as a loss of the culture that is enmeshed with this terrain.
How Do I Show the Ocean Space You Carried Inside You?
Director: Abeer Rafeeq Khan
Duration: 42 mins
29th January 2023

3:45–4:30 pm
The film explores the life and work of the Gujarati poet, playwright, director and actor Bhadrakant Zaveri, who was fatally injured in a bomb blast in 1993. Bharati Kapadia highlights the key features of their twenty-four-year relationship. While narrating the story of the two protagonists, the film encapsulates the transformation of the vibrant city formerly known as Bombay. Through Bhadrakant's poems and glimpses from his final play, the film also becomes a meditation on the political events of the time—the growing consumerism, pollution, the Bhagalpur blindings, the Emergency—and on the spirit of (and desire for) freedom, both artistic and personal. Bhadrakant Zaveri's career as a dramatist spans over three decades (1959-1993) during which he gave 35 plus one-act and 20 full-length plays to the Gujarati Theatre. These plays have been produced in various cities and towns in India.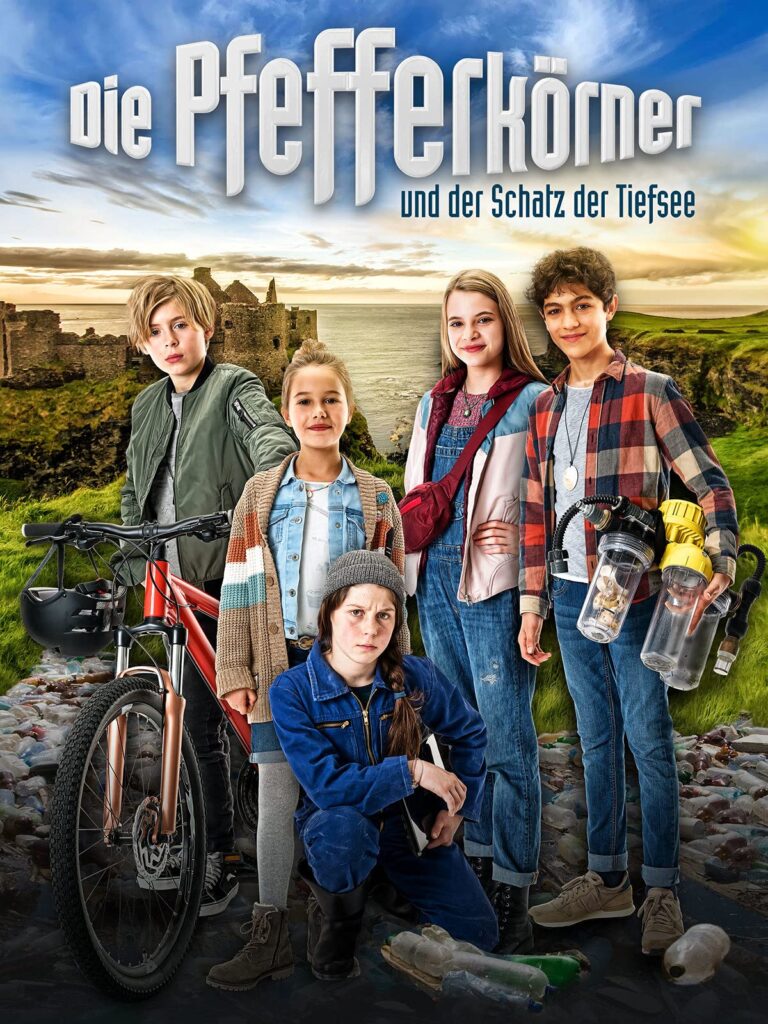 The Peppercorns and the Secret of the Deep Sea
(2020)
Dir: Christian Theede
Duration: 94 mins
Age: 10+
Language: German; Subtitles: English
27th January 2023

3:20–5.00 pm
This time around, 'The Peppercorns' cross paths with a vicious international garbage mafia. The criminals not only want the wheels of their dubious business to continue running undisturbed but also have their eyes on the valuable research results of a marine biologist. But they also weren't expecting the group of young detectives!