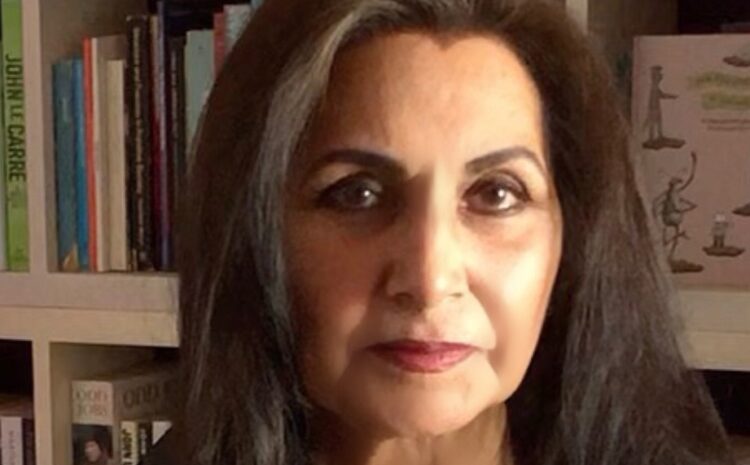 "I learn to 
love the thing that has to be erased, 
the thing I may not be allowed to keep, 
sand that runs away beneath my running feet." 
Fragility, and the strength in fragility, runs through Imtiaz Dharker's poems: the tottering structure in Living Spaces which "leans dangerously / towards the miraculous"; and the thin paper in Tissue that can be used instead of bricks, "layer over layer, luminous / script over numbers over line".
Imtiaz Dharker is a British poet, artist and video filmmaker. Born in Pakistan, she now divides her time between the UK and India. Her poems are part of the GCSE syllabus. She was considered for the position of Poet Laureate in 2019, but decided to focus on her writing instead. She is now the Chancellor of Newcastle University.
Her themes include love, home, displacement, women, and the way that women's bodies become areas of contention. In Purdah 1 and 2, she writes: "One day they said she was old enough to learn some shame. / She found it came quite naturally."
Dharker's poetry is powerful, with beautiful, often haunting, images: the young girl who "stands outside herself, / sometimes in all four corners of a room", the basket of eggs dangled outside a rickety structure "as if they were / the bright, thin walls of faith" and the schoolgirl whom a bullet does not harm but instead opens up a pathway to an orchard in bloom, while "Behind her, one by one, / the schoolgirls are standing up / to take their places on the front line".
How we use words can change how we perceive things: "Are words no more / than waving, wavering flags?", she asks in The Right Word where she tries to describe the man standing outside her door. Is he a terrorist, freedom fighter, hostile militant, guerrilla warrior or martyr? In the end, he is a child "who looks like mine" and a "boy who looks like your son too".
Dharker's poems do not shy away from the dark or from the violence, but she also offers hope. Her poem Halfway ends with:
"Halfway home or halfway gone, 
we have grown accustomed now 
to travelling on the faultline 
of daily miracles."  
Imtiaz Dharker will be at Kaavya Dhaara, HLF's one-day poetry festival on Saturday, 12 November.